Get Rolling with Capital Bikeshare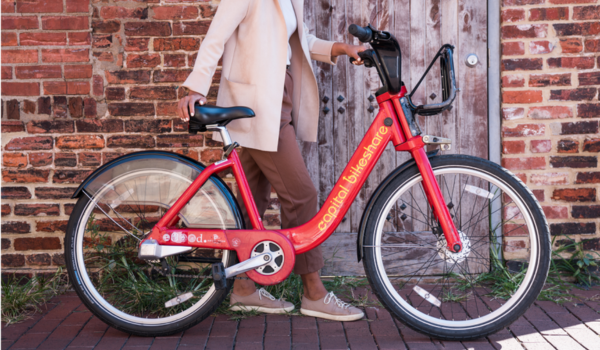 If you're looking for a more active way to get around, Capital Bikeshare has you covered! 
Here are some step-by-step instructions to get started with Capital Bikeshare: 
Find a Bike 
Locate a docking station near you on the Capital Bikeshare app or Lyft app on your smartphone. 
You can use the online System Map to locate a docking station if you're on the computer. 
Start Your Ride 
Start your ride via the app or the payment kiosk once you're at the station.
If using the app, you'll be prompted to scan the QR code (located between the handlebars) to select that bike and start your ride.
If using the payment kiosk, you'll be given a code to type into the dock for your selected bike.
Select your bike, avoiding any docks with a red light.
Once you scan the QR code or enter your numeric code, the light on the dock will turn green, – indicating that your ride has started and the bike is unlocked.
Remove the bike from the dock, lifting it from the seat and pulling the bike to free it from the dock.
Get comfortable! Capital Bikeshare bikes come with adjustable seats, multiple gears, a basket, lights and a bell for a safe and smooth ride.
End Your Ride
When you're ready to end your ride, stop at any Capital Bikeshare station.
Pick an open dock and push the bike in fully until it locks in place.
Wait until the light turns green – the light on the dock will turn green, which means you've successfully ended your ride!
If you don't see the green light, try a different dock or contact customer service on 1-877-430-BIKE.
Staying active while getting around has never been easier. See all nearby destinations you can reach with Capital Bikeshare at the link below!